Welcome To Clairton Industrial Tool & Supply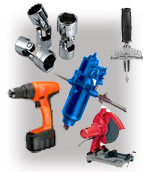 Clairton Industrial Tool & Supply LLC. may be a new name to you but we have been around for over 100 years serving the needs of industrial and commercial businesses. Clairton started out as a simple neigborhood hardware store, helping local constrcution and industrial companies. Over the years, we have grown to serve more and more industrial customers with specialized tools they couldn't find anywhere else. Along the way we earned a strong reputation for quality products and personalized service.
Today, Clairton Industrial Tool & Supply offers a wide variety of power tools and hand tools from the best industry manufacturers at competitive prices. We strive to develop strong business relationships with our customers and offer the assistance and advice in solving your industrial tool and supply requirements. Our web site is designed to help you locate and select the right tools for your specific applications. If you have any questions you may contact us on-line or call us at 1-877-702-8665.