Milwaukee Power Tools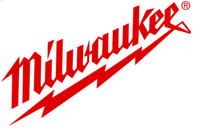 Milwaukee Power Tools has been and is an industry leading manufacturer and marketer of heavy-duty, electric power tools since it started business in 1924. Milwaukee has also invented many tools used to this day including the Right angle electric drill in 1949 and the Sawzall® Reciprocating Saw in 1951. Milwaukee power tools have also developed a strong reputation for quality, durability, and comfort. Clairton Industrial Tool & Supply has been a Milwaukee distributor for many years and has developed a strong business relationship. Clairton customers demand the highest quality power tools and professional grade products most box stores don't carry. Quality Milwaukee power tools combined with experienced sales representatives and support is why so many industry professional choose Milwaukee
and Clairton Industrial Tool & Supply.
Milwaukee Power Tools Index
---
Milwaukee Electric Drills
& Drilling Equipment

Corded Drills

Cordless Drills

Magnetic Drilling Equipment

Milwaukee
Grinding Equipment

Grinders

Polishers

Sanders

---

Milwaukee
Hammers & Hammer Drills

Hammer Drills

Hammers Demolition

Hammers Rotary

Milwaukee
Impact Wrenches

---

Milwaukee
Saws & Cut-Off Machines

Abrasive Cut-Off Machine

Hand Held Cut-Off Machine

Circular Saws

Band Saws

Jig Saws

Miter Saws & More

Milwaukee
Sawzall® Reciprocating Saws

Reciprocating Saws

Orbital Saws

Hatchet Saws

---
Clairton Industrial Tool & Supply Also Carries These Milwaukee Power Tools
Cordless Power Tools
Drian Cleaners
Heat Guns

---

Lifting Tools
Pneumatic Power Tools
Shears & Nibblers

---
Didn't find the Milwaukee Power Tool you were looking for?
Have a question or need assistance in selecting a power Tool?