FEIN GRIT Belt Grinding Machines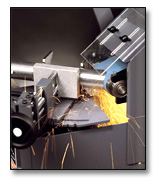 FEIN GRIT modular assembly belt grinding machines are ideally suited for metal processing and machine applications. A highly cost- effective system for every need and the most varied requirements for belt grinding and de-burring as well as radius and cylindrical grinding. With high performance basic belt grinding machines and specific expansion modules, the major belt grinding applications in industry and trade use are covered. And because GRIT belt grinding machines are produced by FEIN, dependability and long service life is assured. Our name is your guarantee.

The high quality demanded of GRIT machines is also reflected in the accessories and especially in the grinding belts. We place great importance on premium quality grinding belts for maximum removal capability and outstanding service life in metal machining.
---
The FEIN GRIT GX is based on the building block principle. That means a full-fledged belt grinding machine serves as the basic unit. The range of capabilities can be expanded as needed, using add-on modules, e.g. for cylindrical or radius grinding. That saves time, money and space.
GRIT GX belt grinding machines are easy to convert from one application to another. With this very flexible approach, combined with great reliability, robust construction and ideal match to materials and numerous applications, the GX series is particularly suitable for trade use or small production runs. In addition, the GX series makes its case with high cost-effectiveness in use: No matter whether coarse grinding or finishing with GRIT GX machines you work quickly, safely and with high-quality results. << Click For Details
---
The GRIT GI machine series was specially developed for use in industry. And the GRIT GI series makes its case with extreme robustness, outstanding performance and tremendous cost-effectiveness.
The GRIT GI is specifically designed for the long operating periods and heavy loads demanded in industrial production. Whether steel, stainless steel or non-ferrous metals, whether flat of square material the FEIN GRIT GI machines deliver first class, professional results in industrial grinding applications. Since the GRIT GI series is modular, It allows fast and easy assembly of the Ideal machine for every application. << Click For Details
---
Clairton Industrial Tool & Supply is a proud distributor of FEIN GRIT modular assembly belt grinding machines. If you have a question or need assistance feel free to call us at 1-877-477-8865.
Have a question or need assistance in selecting FEIN GRIT Belt Grinding Machine?