FEIN Saws

High Performance Hacksaws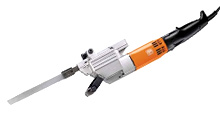 FEIN saws are specifically designed for the professional worker for everything from wood and metal to aerated concrete to pipe.
High grade steel processing, building kitchens, locksmith work, metal processing and industry - FEIN hacksaws are designed perfectly for the high loads experienced when working with steel and stainless steel. As genuine metal specialty tools, FEIN saws maintain a constant stroke and therefore constant cutting speed even under extreme load levels. The sturdy metal housing and very heavy-duty gears make these legendary endurance machines, that often last decades.

The FEIN range is supplemented by tools for pipe processing: hacksaws for pipes of up to max. 24", mainly for plant construction and community supply connections. FEIN hacksaws are ideally suited for cutting pipes and profiles made from steel, cast iron, autoclaved aerated concrete and plastics.
Clairton Industrial Tool & Supply offers a complete range of FEIN saws for your specific application, browse our saw products below or call us at 877-702-8665 for assistance in selecting the right solution for your needs.

FEIN Hacksaws:

Ideally suited for cutting pipes and profiles from steel to cast iron and more. FEIN hacksaws feature an electronic speed control for optimal cutting speed.

---
Have a question or need assistance in selecting a FEIN hacksaw product?