FEIN Offset Screwdrivers

For light construction and deck installation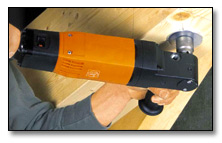 At the end of the day the work should be finished, not the man doing the work. That Is why we have the FEIN MAMMUT offset screwdriver for difficult tasks In difficult to reach places. With high torque for soft Joints. The FEIN offset screwdriver is extremely durable and designed especially for professional handling of large wood screws. dowel screws,. and threaded bars. as well as Rampa,. sleeve, and blind frame dowels. The half-Inch square tool receiver and integrated bidirectional running supports a variety of practical applications. The tool free drill chuck lets you use the FEIN offset screwdriver as a full-featured drill as well. You will see that the FEIN offset screwdriver will make difficult tasks easier. It is flexible, reliable and safe. (Click for specifications)
No more dislocated joints.
In the past, when the joiner found it really cramped working with a screwdriver on prefabricated houses, roofs and stairways he had no choice but to use a hand ratchet. That 's now a thing of the past. The FEIN Mammut offset screwdriver shows its exceptional strength particularly when driving screws in cramped places. Thanks to its driving shaft tilted at 90° the extremely compact gear head and direct universal 1/2, tool holder, it requires very little space for the job involved. You can therefore drive in your screws quickly and expertly in places that are difficult to access.
Record Torque.
With up to 70 Nm, the FEIN Mammut is the most powerful offset screwdriver on the market for soft material – a real "power" tool. The FEIN Mammut is not only superior to the classic screwdriver with pistol grip or D-handle, it also exerts far less strain on your wrist. And thanks to its special design, the extremely high torque is mastered with ease, even without a clutch.

Versatile Specialist.
The FEIN Mammut is ideal for working with wood screws up to a shaft Ø of 16 mm, dowel screws up to 14 mm Ø, threaded pins, sleeve fasteners and door-frame dowels – i.e. for all screwdriving jobs on soft material in cramped places that require a high torque. And with the drill chuck supplied as an accessory, you can convert your screwdriver into a high-performance hand drill in a jiffy.
FEIN Offset Screwdriver Benefits

Extremely high torque for working on soft material

Extreme load stability for difficult work

Safe working even at the highest torque

Selector switch for clockwise/anti-clockwise rotation

Versatile application possibilities with 1/2 square tool holder

High-quality hand drill with push-on/pull-off drill chuck (accessory) – without any tools needed
Call us at 877-702-8665 for assistance with the FEIN offset screwdriver.
---
SCW 16-6
Offset Screwdriver up to 5/8"
Powerfull Screwdriver for heavy duty wooden assembly jobs.



Power consumption

Watts
450

Power output

Watts
250

Full load speed

rpm
0-2,700

Max. torque for soft joint opperation, approx.

rpm
0-4000

Cable with plug

in/lbs.
106

Weight

ft.
16'

Screw

lbs.
2.8

Chuck

3/16"

Price Includes:

1 metal tool case and 1 additional handle
1 wrench socket insert each of size 13,17,19, with 1 spacer 1/2" and bit each on 1/4" and 5/16" hexagonal socket.

---
Have a question or need assistance in selecting a FEIN deck drywall screwdriver?